What is Lean, Six Sigma & Lean Six Sigma?
Lean Manufacturing or Lean Production or Lean Management, often just "lean", is a systematic method for waste elimination or minimisation with an intent to increase process efficiency & productivity. Lean focuses on Accelerating the process.
Six Sigma is a disciplined, statistical-based, data-driven approach and continuous improvement methodology for eliminating defects by reducing variation. Six Sigma focuses on making process Accurate and robust.
Some of the other definitions of Six Sigma are
Six Sigma is a disciplined, data-driven approach and methodology for eliminating defects (driving toward six standard deviations between the mean and the nearest specification limit) in any process – from manufacturing to transactional and from product to service.
Six Sigma (6σ) is a set of techniques and tools for process improvement. Six Sigma strategies seek to improve the quality of the output of a process by identifying and removing the causes of defects and minimising variability in manufacturing and business processes. It uses a set of quality management methods, mainly empirical, statistical methods.
What is Lean, Six Sigma & Lean Six Sigma?
Both Lean & Six Sigma complement each other in many ways. While Six Sigma is used to find out the cause which is unknown at the beginning of the project and arrive at Y=f(X)* to determine the strength & direction of the relationship. Lean is mostly used to identify different types of wastes within the process and use lean tools and techniques to reduce/eliminate the waste.
So, it is not Lean Vs Six Sigma, but it is Lean + Six Sigma is where you get the best results.
Comparatively Lean is easy to learn and implement, and one can achieve significant results through Lean. Knowing Six Sigma is what makes you a champion in the market. So, throughout the document, if we mention Six Sigma, it also means Lean Six Sigma.
*Y is output is output and X is an input variable(s).
Lean6SigmaPro's Note
Learn both Lean & Six Sigma together, while Six Sigma gives you an edge in the market, Lean compliments you in executing Six Sigma projects by helping you in finding best solutions especially in Improvement phase of the project when conventional solutions are not applicable.
Lean Six Sigma
LSS is a methodology that relies on a collaborative team effort to improve performance by systematically reducing/removing waste and eliminating/reducing variation. It combines lean manufacturing/lean to reduce/eliminate waste and Six Sigma Principles to minimise variation.
Lean Six Sigma = Lean + Six Sigma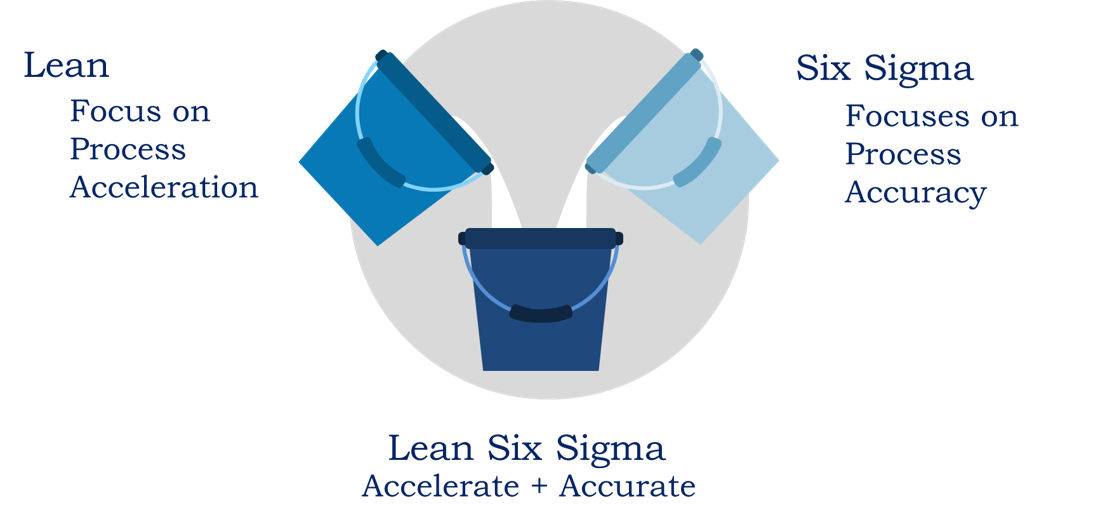 To make it simple with an example, Lean focuses on reducing the cycle time of a process from 10 mins per activity to less than 7 mins, and Six Sigma focuses on reducing the defect from 10% to 6% by reducing the variations in the process.
Different Levels of Lean Six Sigma
Though many of the Lean Six Sigma concepts can be used on a daily basis in a day to day work, usually Lean or Lean Six Sigma concepts are utilised best as projects.
Team structure is from the Six Sigma structure but continued for Lean Six Sigma as well.
Yellow Belt / White Belts - Team members
Green Belt & Project Leader
Black Belt – Guide Green Belts
Project Champion – Business Head who is keenly interested in the execution of the project
Optionally Master Black Belts* – Support Black Belts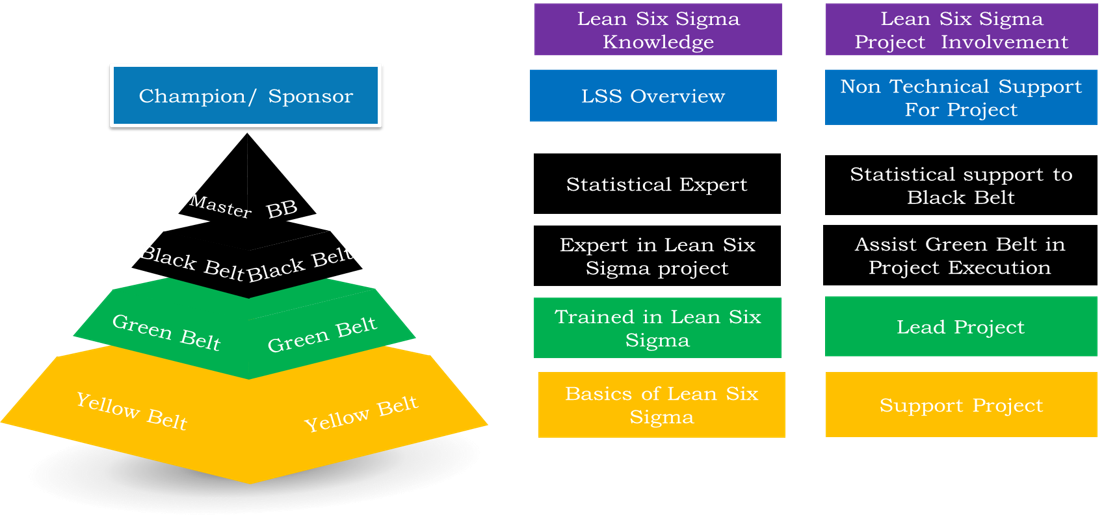 Yellow Belt (YB)
A Six Sigma Yellow Belt is a team member in a Six Sigma project, who understands the concepts and assist Green Belt. Yellow Belt undergoes formal training during which he/she learn the concepts of Six Sigma. In most of the organisation, either Black Belt or Green Belts train their Yellow Belts during the project execution. Formal training for all the yellow belts adds to the success of the project
Certification Process
2-4 days of formal training followed by a passing of certification exam.
Lean6SigmaPro's Note
Investment in Yellow Belt training would undoubtedly increase the project success rate. Six Sigma is a team effort; hence every team member in a Six Sigma project is very crucial, it is essential to train them such that each team member has the knowledge, skill & desire to execute projects.
Green Belt (GB)
A Six Sigma Green Belt is an individual who leads the Six Sigma project. He/she is usually part of the process in which project is being driven and knows the process very well. Six Sigma Green Belt must undergo formal training in Six Sigma which is more intense than Yellow Belt, he/she usually knows how to make use of the statistical tool and draw inferences out of the Analysis made with/without the help of Black Belt. Green Belts carry higher responsibilities of delivering Six Sigma projects and are required to dedicate ~20-25% of their time in executing the projects.
Certification Process
2-6 days of formal training followed by a certification exam. Exams are mostly open book exams.
Lean6SigmaPro's Note
The bulk of the training institutes provide 2-4 days of training, while four days is OK if someone wants to learn quickly due to their specific reasons, but 2 days is too short to learn Lean Six Sigma. Six days is optimum preferably with a gap between the training, which would allow the participant to practice some of the concepts at their workplace. Six days is ideal to get exposed to the concept, get to know the statistical software, with few practical examples with real-time data. Too much theory at this stage is also not as good as it gets overloaded & participants may not enjoy the process resulting in losing the interest. I have seen lengthy training sessions not yielding any results on the ground.
Regardless of your domain expertise or the background complete Green Belt as early as possible in your career. It helps you to start looking at the problem with different lenses. You will be a different professional as Lean Six Sigma Green Belt. Your problem-solving skills get strengthened; your ability to analyse the problem would be much better than your peers. I am sure you would have noticed, the one who grows in the corporate ladder are the ones who can solve the problems in day to day work than who is a master in transactional activities, that's how Lean Six Sigma knowledge can be useful throughout your career. While certification can give you an edge but usage of the Six Sigma concepts during your day to day work will provide you with an added advantage and can accelerate your growth significantly.
Black Belt (BB)
A Six Sigma Black Belt is a full-time change agent and an improvement leader who guides Green Belt in executing the projects. Mostly train & support Green Belts / Budding Black Belts to implement projects especially in helping with statistical analysis. Black belts also lead Six Sigma projects which are more complex in nature. Unlike the Green Belt who is an expert in the process, Black Belt need not be a process expert, but he/she is a Six Sigma expert coupled with good business acumen. Black Belt is the key member of entire Six Sigma value chain as for the majority of the companies in India and abroad Black Belt is an ultimatum of Six Sigma value chain & is very influential in decision making be it choosing appropriate Six Sigma project or be it choosing the right Analysis tool. Black Belt contributes 100% of his time in Six Sigma projects. An experienced Black Belt is also an advisor to executives or business unit managers.
Certification Process
One must be a certified Green Belt to take up Black Belt training & certification. Training varies from 6-12 days of formal training, followed by a certification exam & a real-time project with a significant impact. Like Green Belts, exams are mostly open book exam.
Lean6SigmaPro's Note
Six Sigma Black Belt is a significant role & you could be a cash cow. A very well-respected position. Get into a zone of executing projects at speed. Get good both at Lean & Six Sigma, which would be very handy for idea generation & implementation. Have a target to implement 10-15 or more projects every year. Should carry personal goal of one to two million dollars saving per year to start with which would put in the driver seat sooner. Attaching dollar value for your projects is the differentiator from others.
Many training institutes provide training between 6-12 days, 6 days is OK if you already know the concepts well and executed 3-4 projects you would like to get certified or regularise your learnings but it is too short when you are not well versed with the concepts. 10-12 days would be ideal, but more than that would again be challenging to absorb the knowledge.
Master Black Belt (BB)
Master Black Belts are methodology & Statistical experts, their typical roles in an organisation are to support Black Belts in Six Sigma Methodologies. They are responsible for the strategic deployment of Six Sigma and drive improvements in all business functions. They play a vital role in organisations embracing Lean Six Sigma culture hence an essential member of Lean Six Sigma implementation across the business functions. Smaller companies outsource this activity to an external consulting agency. Master Black Belts together with Tenured Black Belts are advisors to executives or CEO. The typical work distribution of Master Black Belt is 80% Leadership & 20% Six Sigma technical role.
Certification Process
Various certifying agencies use different approaches to certify Master Black Belt. The most usual ones have a prerequisite of Black Belt certification with ~5 years of experience & driven ~10+ projects. MBB Training would be one to two weeks focusing on advanced knowledge in Six Sigma, Leadership skills & ways to integrate other tools (such as Lean) with a focus of towards organisation-wide deployment of Six Sigma. Followed by a training participant must complete the certification exam, conduct 5-10 batches of Six Sigma training & ~5 projects
Lean6SigmaPro's Note
While Green Belt to Black Belt is a natural progression if someone wishes to continue in Six Sigma field, Master Black Belt is not the default next to Black Belt; it is a personal choice. If the option is to drive high impacting projects and grow to leadership levels using the business knowledge coupled with Six Sigma experience rather than becoming a methodology expert, then one chooses to be a Black Belt. If the option is to get into Leadership (mostly quality/ Business Excellence) role with a vision for deployment of Six Sigma organisations wide and help organisations embrace Lean Six Sigma culture across organisations, then a choice of Master Black Belt is the way to go.
Majority of the companies who look for Master Black Role also encourage Black Belts with 5+ years of experience as Black Belts. Some corporates tend to introduce their tenured Black Belts as Master Black Belts especially when introducing to their clients, the justification that goes is the experience and number of projects driven.
Project Champion/ Sponsor
Champion or sponsors are business leaders, who possess a keen interest in the project and typically provide the required non-technical support like workforce, infrastructure or additional machinery/equipment to the team.
There is no certification process for Project Champion / Sponsor, but formal training on the methodology of Lean & Six Sigma with a detailed explanation about their role would help Champion/ Sponsor in project selection and reviewing the project at various stages. Champion/Sponsor along with Black Belt or Master Black Belt plays an essential role in project selection. As a business leader, it is the responsibility of Champion to choose a project leading to significant impact.
What is the demand for in Six Sigma Certified Professionals GB/BB/ MBB?

Please permit me to get down with a bold statement. A good Lean Six Sigma Black Belt is a recession free job; I will explain this soon.
As long there is a process there is a requirement of Lean & Six Sigma professionals. Irrespective of the industry and function we talk about there is an opportunity for us to strengthen the process. Though significant improvement would be visible in Manufacturing companies, the biggest gainers by implementing Lean Six Sigma are IT & service-based companies. Project execution is rapid in service-based companies compared to Manufacturing which will lead to a speedy Return on Investment.
There is a massive demand for Six Sigma Professionals in India for many of the corporates. While direct jobs are recruiting especially to drive Lean Six Sigma projects but many roles make Six Sigma as mandatory especially Green Belts for mid-management roles and Black Belts for leadership roles. I had never seen a "Nothing to display" page when I ever I searched for Lean Six Sigma related jobs in some of the leading Job portals like Naukri, in fact, each time it runs into multiple pages full of opportunities.
The demand will continue to grow with industrial growth like Industry 4.0. Higher the maturity in the organisation higher the chances to accept Lean & Six Sigma improvement methodologies. Any organisation product or services are matured enough in the market Lean Six Sigma is a saviour for them to cut costs and be profitable.
There is a feeling that the recent trend in Robotics Process Automation & Analytics will shadow Lean Six Sigma. Reality is that each of these concepts has their role to play and they complement each other. and organisations been reaping the benefits of Six Sigma have not changed the strategies. Even today all the major Six Sigma following companies like GE, Wipro, Cognizant, TCS, Honeywell, Infosys, HP, Flipkart, Amazon, E&Y etc., continue to hire on frequent Six Sigma professionals.
A recession is good news for Lean Six Sigma Professionals
Recession brings more Six Sigma jobs as organisations look to tighten the screws to optimise their process & cut cost, advantage Lean Six Sigma professionals as it is a natural routine of Lean Six Sigma professionals to streamline. Six Sigma Blacks Belts play a vital role during the recession in driving projects to maximise the organisation's earnings.
While getting certified and creating the demand for oneself is essential, but driving projects & generating worth millions of dollars is the ultimate way to create opportunities for oneself
The market will more or less & follow the same trend across different levels of Six Sigma Belts. The number of opportunities higher for Black Belts followed by Master Black Belts while some of the Master Black Belts roles also prefer Black Belts. and in the majority of the cases reverse if not true, thus reducing opportunities for MBB's. Since Green Belts require process knowledge opportunities for an outsider is bit low, but chances to grow in the similar industry is higher, the presence of Green Belt certification add humongous value to resume and will have the edge over others.
There has been good demand for Lean Six Sigma professionals from India in the USA, France, Italy, Germany, UK, Middle East (UAE, Dubai, Qatar, Saudi Arabia), Sri Lanka, Philippines, & Singapore and few vacancies in the USA.
Industries & Function using Lean Six Sigma
Both Lean & Six Sigma Originated from the Manufacturing industry, but today it has penetrated beyond Manufacturing. As I mentioned before wherever there is a process, Lean Six Sigma can be used to make the process robust (if financially it is justified). Below are few examples of most commonly used industries & functions with few examples for you understand.
IT industry uses Lean & Six Sigma to reduce defects in the codes written, to increase the team's productivity, minimise test failures and many more.
ITES industry uses it to increase the productivity of the team, uses it to meet customer set SLA's, reduce mean time to resolve tickets, reduce backlog tickets. Uses to identify the impact of experience and training on ticket resolution accuracy and speed etc
BPO & BPS industries use to reduce transaction time, reduce the number of errors in the transactions, increase productivity etc
Healthcare uses it to improve customer satisfaction, increase Doctors productivity and enable them to see more patients, reduce Operation times to increase utilisation
Manufacturing uses to reduce defects (also referred to as PPM), improve process efficiencies, reduce inventories. Increase productivity etc.
Some of the other function related projects could be
Human Resource department can use Lean Six Sigma to recruit faster, reduce attrition rates, increase employee satisfaction
The sales team can use Lean Six Sigma to improve revenue generation by identifying their strengths, Weakness, followed by identifying ways to Accenture the positives and negate the negatives.
Logistics or Supply Chain Management (SCM) team can use it to reduce the variation in their delivery times. On time delivery every time.
Purchase Team can use it to evaluate if there is any difference between vendors in terms of price and quality.
Design & Development uses Design For Six Sigma (DFSS) to ensure design meets/ exceeds the customers' requirements, and exceeds the competitor offerings followed by translating the design requirements to process elements using Quality Function Deployment (QFD).
I recently mentored one of our first batches Black Belt professionals on Design for Six Sigma projects for one of my e-commerce company wherein we identified the customer requirement precisely & translated them to process elements followed by measurement, analysis and validation. The project was successful and was implemented, and we were able to see the profit even at a lower volume, whereas large e-commerce companies fail to project profit even at higher volumes.
What are the average salaries of Six Sigma Professionals
Like any other professions, Six Sigma salaries are also dependent on many factors such as when one got certified as Green Belt or Black Belt and the number of projects, overall years of experience, educational background, previous experience has an impact. It is difficult to arrive at an average salary range for Six Sigma professionals.
Assuming that someone performs the role as mentioned above and have spent significant (say 80%+) amount of their time in Six Sigma field, Industry experts say that a Green Belt would earn 1.0 – 1.5 lakh for each year of experience they carry (if significant of that experience comes as Green Belt roles). Black Belt estimates an average salary of 2.0 – 3.0 lakhs for each year of experience they carry especially in IT/ITES companies.
To clarify with an example a Black Belt with 12-14 years of industry experience out of which 10+ years as Six Sigma professional with ~30-40 projects under the belt with 3-5 million dollars saving would end up earning somewhere between 24-36 lakhs of CTC or more a year.
A lot can change either way based on the impact created by their respective projects. When someone gets into consulting roles compensation is even more complicated with the addition of many other factors coming into play but for all good.
Please note: All financial numbers are in Indian currency and for Indian business situations for a city like Bengaluru.
Lean6SigmaPro's Note
Growth is directly proportional to results; results are evident with a magnified view and growth also compliments that view. As a Lean Six Sigma professional, if you can drive significant improvements and convert that into dollar savings, you will be compensated well. Let us assume If you can drive net effective 1-million-dollar savings consistently (After all the expenses negated) per year through your Six Sigma Projects you will be in a good position to command ~5 % of the savings. If you are not able to drive significant improvement projects, then you can't demand what you have not earned.
It is a simple strategy you help your business earn; they will compensate you back, this is where many professionals continue to be Black Belt to drive the high impacting projects instead of taking strategic roles leading to Master Black Belts as the revenue is evident in the projects.
I do not have prior experience of IT background can I switch to IT/ITES with Lean Six Sigma certification?
The answer is BIG Yes, especially for Black Belts. The beauty of Lean Six Sigma is the ability to switch over to any industry. Every industry has processes, and as long as there is a process, Lean Six Sigma guys have their job to do in strengthening the process (as long as it is financially justified), the majority of the operations (in India) operates at less than 5% process efficiency. If you carry a good number of projects under your belt with massive impact, the task is a lot easier to switch to IT/ITES/BPO
I moved from hardcore Mechanical Industry (with zero knowledge in IT) to IT, IT operations, BPS, ITES, Internet & Social Media, Digital and executed few projects in the field of Bioscience, Banking, Education, E-commerce and Transport industries either as a freelancer or through Lean6SigmaPro consulting assignments but never had any challenge in my transitions.
I am also personally mentoring few Lean Six Sigma professionals who are aspiring to get into IT industry, which I see happening shortly for them post executing a couple of projects in their respective industry.
Which Certificate Carry Higher Weightage?
If your company has a certification process and if you are eligible to go through the process go for it. Corporates certificates are usually more vigorous than an external certification. I respect corporate certificate as no corporate certificates are given without a project.
While it is necessary to have a certificate issued by a credible corporate or credible agency, unlike other courses just certificate alone has little value, but it all depends on what you do after your certification which matters.
While many companies do recognise corporate certificate, but some of them require certifying agencies prefer internationally recognised certificates like Exemplar Global, ASQ, TUV SUD, IASSC. So, if you are already carrying corporate certificate just back it up with some of the internationally recognised bodies as the price is not very high in comparison with the opportunity, you might miss out during your corporate journey. Earlier you get these certificates is better as your Six Sigma journey clock starts from the time you get certified.
If either you are not eligible or your corporation is not providing a certificate, then you can get it from an internationally recognised certification agency like Exemplar Global, ASQ, TUV SUD or IASSC either of these should be able to help you for lifelong. Each of these certificates does have a specific price tag, but as I said before, the certificate is one part as long it is credible you should not be worried too much about it.
My company does not support Six Sigma Implementation, do I still have a chance to learn & grow using Six Sigma?
Well, it is a very subjective question, as I do not know your management. Let me make a brave attempt and tell you reality if you reach out to your management and convey to your leadership that you will reduce the defects by ~ 30-40% which would lead to few millions of rupees/dollars in savings. I don't think any management would reject your offer. The point I am making is, reach out to your Leadership with an end in mind that is the potential results which Lean Six Sigma can deliver, hold a meaningful dialogue, give them enough confidence and evidence along with case studies to justify your proposal. I am sure you would get your management buy-in.
If you don't get a buy-in to reach out to your training institutes to help you with some of the projects be it real-time or dummy, they should be able to offer you one, at least the dummy ones, make use of it for your learning.
Try doing freelancing, by pairing up with some of the consultants, go along with them wherever they take you, you are building your capacity to earn, which should be a great asset. Yes, its hard work, which is there for any Lean Six Sigma professional, as initial days are not rosy, so work hard, you will be rewarded.
Lean6SigmaPro's Note
A strong elevator pitch with millions of impact value would always get hears to listen. Prepare a strong proposal, and credible numbers before reaching out to your leadership, even if your management is not keen, no one should stop you from you running the project on your own, at your additional hours. Remember its your career which is most important, be ready to pay the price.
If you still run out of your options, apply Lean Six Sigma to your personal life, have a project to increase your vehicle mileage by 20%, run a project to improve your savings at home, make a beginning journey will take its curve based on your efforts.
Lean Six Sigma is an advantage for Mechanical / Industrial Engineers?
Mechanical and Industrial Engineers together holds lion share of total Lean Six Sigma consultant in India. Though there are no Mechanical / Industrial Engineering subjects taught during the course of Six Sigma, but Six Sigma is advantage for Mechanical/Industrial Engineer as both of these branch professionals can relate to concepts like Process, Input, Output, Statistical Process Control, Time Study, Measurement System, PERT/CPM, Line Balancing, Mistake-proofing better than another profession. However, these are basics; these basics would take a few hours for others to master them. Once someone learns the basics, it is an absolute level playing field. If you are a graduate in any discipline, you have a chance to build your career in Lean & Six Sigma as long as you can understand Lean Six Sigma concepts.
How important it is for a Leader to know about Six Sigma?
A leader who possesses the knowledge of Six Sigma will have an edge to understand in dealing with the challenges associated with the project, so Lean and Six Sigma provides a much-needed advantage to contribute positively in problem-solving. Lean offers a wide range of solutions which are very handy when the conventional solutions available have limitations and may not be useful due to several reasons.
To be part of a Six Sigma project, it is essential for Leader to know the methodology as it helps him/her get better clarity of the project and contribute positively. Certification is a choice but understanding the concept to the level of Green Belts will put him/her in a driver position and guide his/her team and make a strategy along with Black Belt or Master Black Belt.
I do not require to be a Six Sigma consultant, does Six Sigma still helps me?
Ability to read the data, interpret, make inferences and make that critical decision which has statistical significance & Ability to solve a complex problem by addressing the cause of the problem with a structured approach is an asset for anyone who aspires to fast track their career. Lean Six Sigma exactly does that. It enhances your command of using data and interpreting it right. Like it or not growth in the corporate ladder, it's all number game.
If you are someone who understands numbers & takes decisions, you would be making your growth much easier and faster. Lean tools or methodologies can be handy when you run out of options for finding solutions in your organisation. If you are looking to grow to senior levels in the organisations and make a mark Lean Six Sigma can complement you
I am not good at math; will I be able to succeed in Lean Six Sigma?
Well, if you have done your +2/ 12th standard math or been in the field of Accounting, it should be good enough. If you have not done that, you might have a small challenge but should not act as a showstopper, as you can conveniently ignore mathematical component of formulas but focus on learning the software and turn it to your advantage. If you can practice interpreting the output you have overcome your challenge, it is not easy but not impossible if you are determined to
Lean6SigmaPro's Note
During my early days as a Lean Six Sigma consultant, I happened to learn from someone who had not studied math after 10th, but he had mastered using Minitab & acquired the interpretation skills, and tell you, he was very successful.
What is the ideal roadmap to becoming a Lean Six Sigma Consultant?
For someone who desires to be a Lean Six Sigma Consultant
Let me make it clear to you, it is not an overnight success. Might take a few years. It takes some time for you to get to be a Lean Six Sigma consultant. Assuming you are starting afresh, I recommend you the below sequence of activities irrespective of what you do if you are graduate.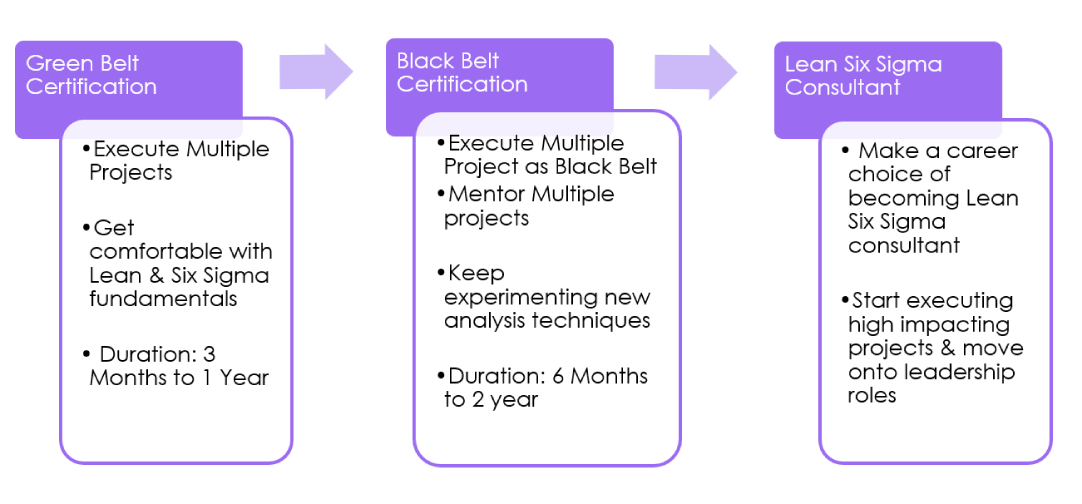 For someone who is not looking to be Lean Six Sigma Consultant
Get certified as a Lean Six Sigma Green Belt Certified try adopting the concepts at your work if interested execute multiple projects, provided if you can use the concepts well and if you feel you are falling short of some of the analysis tool at some point then go for Black Belt if you carry that enthusiasm. Continue using the concepts for your advantage at your workplace. See, if you can execute a few projects which should help you in building up your confidence.
I am a student will I benefit from Lean Six Sigma knowledge?
The answer is Yes, As I mentioned before irrespective of your industry and function you belong to Lean & Six Sigma does help you. If you are from Mechanical, Industrial Engineering, Business Management or Master of Business Administration, the chances are high that you would come across Lean and or Six Sigma during your journey of the corporate career.
I have personally mentored quite a few students in Lean projects as part of their Engineering Project, including one of the award-winning projects. It is not necessary that you have to be doing a Lean Six Sigma project, but the concept might be handy in any other projects as well
Having said this, do not invest heavily in your certification now, learning is the key. Any Green Belt would also serve the purpose for now. You can always go back and complete your internationally recognised certification as and when the need or you feel it is the right time to get certified post you get into your career. Strictly No Black Belt at this level, as you would find it difficult to understand some of the concepts.
Hope the information provided was useful.
Wishing you the best !!
Looking forward to helping you be a Lean Six Sigma Professional.